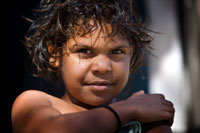 Module 1: Know yourself (know your world)
Know yourself (know your world) provides concepts and resources to support you as a future teacher to understand your own unique identity and the perspectives you bring to learning and teaching about Aboriginal and Torres Strait Islander peoples and cultures.
Objectives
Topics are presented in an example learning sequence, to be adapted as required for your institutional or study context.
The aim of the following topics and resources is to gain a clearer understanding of your own culture and how this influences your beliefs and values.
This will equip you to question the assumptions that underpin your perceptions of cultural identity and reflect on how this may impact on your pedagogical choices and student learning.
Explore the Module 1 topics below through the Topic Overview or Get Started links.