Print Topic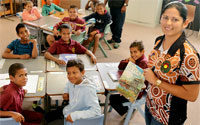 Pedagogy that is inclusive, that is culturally appropriate and that fosters a stimulating learning environment will address the learning needs of all students.
Inclusive practice widens participation by all students and as teachers we know that our classes contain students with a range of language and cultural backgrounds and educational needs. Teaching in order to maximise learning creates an inclusive environment.
This topic will help you:
Develop appropriate strategies that will benefit all students in the classroom.
Utilise pedagogical understandings to investigate and reflect on current Aboriginal and Torres Strait Islander, multi-cultural, anti-racism and NESB education policies, programs and services.
Evaluate your role in contributing to student outcomes, equality and quality of school education.